What is 'followership' and how does it determine your team's performance?
About this event
Often considered as the flipside of leadership, followership is the ability to take direction and be a valuable team member. How well followers deliver on what is expected of them is as important as how well leaders lead the way. When followership fails, objectives are not achieved and teams are left with unplanned outcomes.
In this event, Squadron Leader Gary (Tosh) McIntosh, adept coach, course designer and RAF Strategic Training Officer, will:
Outline the different team conditions that can lead to poor followership, including low morale and poor work ethic
Reveal tips and techniques to help you cultivate positive team environments
Detail the negative consequences of weak followership, such as unsatisfied customers, lost opportunities and weak competitiveness
Provide insight on how to actively maximise your team's success as a result of strong followership
Join this hour-long CMI event to develop your knowledge through Gary's extensive training experience, and explore how followership can ensure your team's objectives are met.
Our Speaker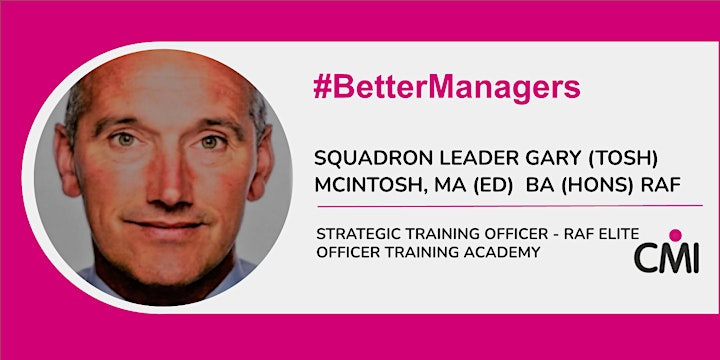 Suadron Leader Gary (TOSH) McIntosh, MA (ED) BA (HONS) RAF, Strategic Training Officer, RAF Elite Officer Training Academy
In 1990 Tosh left his hometown of Dundee to join the RAF as a Physical Training Instructor. After many years fully utilising the opportunities available to him whilst working in the adventurous training environment, he commissioned as a Personnel Training Officer in 2005. Although this decision meant he would do many varied support roles, his natural resonance was with people, training and organisational development.
Feeling the urge to test his experience outside the RAF, he left in 2016 to work at Priory Group. Starting as the Learning and Development Business Partner, he became the Head of Learning and Development in 2017. Priory Group is a private healthcare company with 30k staff spread over 450 sites nationally. Primarily accountable to NHS Trust, his team provided learning and development support to all sites and staff for regulatory and clinical assurance compliance like Ofsted and CQC.
Having re-joined the RAF in Jun 20 as OC of Training and Development Squadron in the Learning and Development Wing of RAF Officer Training Academy. His main responsibilities are to
link development with delivery and to review current philosophy to wider training strategies, this is a transformational post for the unit. Using projects such as MERCURY, SOCRATES, PORTAL and ASTRA to remain consistent in how staff and students think and behave throughout these strategic projects is where adding value is measured for our next generation air force.
Thinking he would become a schoolteacher, Tosh self-studied to achieve a Master's in Education, he is yet to be a schoolteacher but is extremely comfortable at the RAF Officer Training Academy developing staff to get the best from the students who want to commission in the RAF.
Married to Kirsty, with two children. He keeps a positive mindset regarding the outdoors, exercise, especially skiing and football; he even coaches his son's team because standing on the side-line keeping quiet was not an option.
Our Host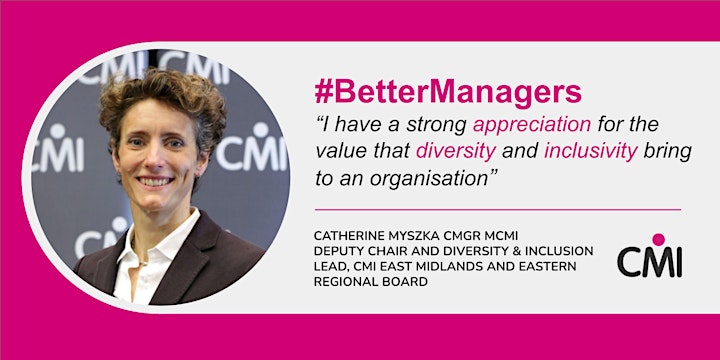 Catherine Myszka CMgr MCMI
Deputy Chair and Diversity & Inclusion Lead, CMI East Midlands and Eastern Regional Board
With an early career as a Chartered Accountant, followed by a variety of finance and transformation roles with global remits, Catherine has spent the last decade as an independent transformation consultant, helping clients to shape their vision and strategy, and then designing transformation initiatives to deliver the desired outcomes.
Focussing on process excellence, efficiency, human-centred design, and delivery at pace, to help clients to unlock the potential in their organisations.
Catherine has a strong appreciation for the value that diversity and inclusivity bring to an organisation; not only in financial performance, but also employee engagement, mental health and wellbeing, and robust, effective, innovative and disruptive design solutions.
Catherine gained Chartered Manager status after completing her MBA with Leicester University. She truly believes in the CMI's values – Professional, Progressive, Passionate, and Practical – and the benefits that membership of the CMI delivers, and is proud to be rejoining the East Midlands and East Board as Diversity and Inclusion Champion, and Vice Chair.
For more information about the CMI East Midlands & Eastern Regional Board you can visit the Board's webpage :
Or you can connect via social media:
Twitter: @CMIEME
LinkedIn: https://www.linkedin.com/groups/5187723/
In the meantime…
If you're a member of CMI, or subscribe to our content, you can find thousands of exclusive, practical development resources in ManagementDirect. Log in here and search for a topic to get started!
Not yet subscribed?
From free newsletters packed with the latest trends, insights and tips for managers and leaders, to the full suite of invaluable tools and benefits that come with being a CMI member, we've got something for everyone. Visit our website to find out more.